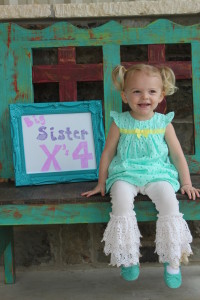 Oh our precious Parker Pie!!!  What in the world would we do without her!  She is the light of our lives and has brought so much color into our world, it is amazing!  She blessed us with her presence on 12/7/12, and our lives have forever changed for the absolute better.
She was our miracle baby and a most certain gift from God, for it is by his Grace and Love that we are blessed with her.
I explained about our issues with conceiving her in my 'Infertile' Blog.  However, there was much more to it……Trent and I had been married and wanted a family.  Once we started trying and nothing happened after a year, I began doubting.  We had everything checked and all was good, so there was no medical explanation.  It was just not happening.  I got so beat down that I was under the impression that I would never have a child of my own.  It was a very lonely time and I had many emotions from A to Z.  I worried about Trent, he deserved a child of his own.  I felt inadequate.
Then….I started fighting all those feelings….They weren't coming from God for sure.  I decided to stop feeling all of that and start believing!  We decided to go to our Pastor and have him pray over us and with us, and we also had loved ones praying and believing in the word of God for us.  One of my Uncles actually said….Okay, it's done, you'll  have a baby by Christmas!  Wow, that was huge!  (he also prayed for us before our Quad Pregnancy and stated the same thing…..that we'd have another baby by Christmas 2015…he just forgot to mention there would be 4 of them, haha)  But, I just thought…how powerful!!! Why have I been so shamed and broken….I was so down that I had to let it all go and give it all to God, and it was then that he blessed us with our first positive pregnancy test.   I went outside that early morning and fell to my knees under the sky!  God had not forsaken me…..he wanted to bless me all along I just wasn't letting him.
It was a wonderful pregnancy and a smooth delivery for us to see our precious angel!  The day she was born became the best day of my life.  We are a family now!
And then she grew into a beautiful little ray of sunshine, and we thank God every single day for her!  I know she'll be the best big sister ever!