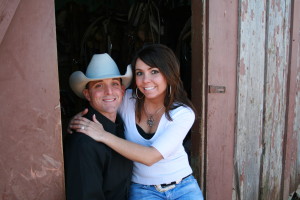 Trent and I are both Texas A&M University Graduates, Class of 2000!  WHOOP!!!  We met while attending college at the Dixie Chicken of course!  It wasn't until we were both out of school and working until we found our way back to each other.  I believe we were both about 27.  We were married in October 2009!  And the rest is history!
Trent has been my rock and was definitely worth waiting for!  He is one of the very few men I know that still tip his hat when he meets a lady and still opens doors for me.  Chivalry is not dead!  He will do whatever is needed to provide for me and for our children, he sacrifices all for our well being.  He is totally selfless, and the hardest working man I have ever seen!  We have been through so much together already, we worked together (I was his assistant) and we have moved several times, lived in a travel trailer, built a house….. I know we will stand against anything that comes at us!  I think we got this married stuff down 🙂
I love him with all my breathe and am so proud of our marriage and who we have become together!
Also….I'm sure if he were writing this, surely he would say the same about me..  😉