Our sweet precious babies turned 1 month old Saturday on the  15th!  Whoo-Hoo!  My, My how a month has flown by.  I think I am just now getting the hang of the NICU and getting a schedule down, and it's already been a month…..wait…what..?!?!
So….Yes, these 4 Angels from Heaven are 1 Whole Month Old!  33 weeks gestations.  And look how much they've grown!  I can tell they are getting chubbier cheeks 🙂  and fuller little bodies!
We are just beside ourselves with amazement of them.  They are so brave and strong, just like their big Sister!  I am just in awe of these little ones….If you have children you know the kind of pride I am talking about, It's amazing!  All 5 of our babies are just making our hearts swell and blowing our minds every second of every day!   I am still very emotional you know (hormones, urghhh)….however, I used to cry once a day for the first or second week, now I'm down to just every other day or every 3 days.  🙂  I surely do cry when Big Sister, my little Tinkerbell as I call her, leaves me.  She cries and tears up and her little bottom lip quivers, I wave by with my best and biggest smile and then I break in two when she's out of sight and sob like a baby.  My heart aches for her when they are gone and then my heart aches for the Quads when I am away from them…It's a no fun game of tug a war.  I cannot wait until we are all together and under one roof as a family, it will 'feel' like a real family to me, as I sure do miss Trent too.  And, maybe it will make more sense to Parker.  I sure hope so.  She's already saying "mommy are you coming to my house or are you staying at your new house."  Breaks my heart in two!!!
Anyway…..A lot has happened in the past 2 weeks……..Where do I even begin….?
Our babies have all reduced their episodes of Heart Rate Drops (HRD) and O2 Desats, but are still having them sporadically.  Payton and Porter are still on their low flow nasal cannulas on minimal oxygen, just a little sniff for each of them…..they are just still hanging on to it.  Payton was tried off of it for a day or so at 31 plus weeks old, but was given it back as she was Desating too much.  She is a little princess.   I keep telling the nurses that she must think it is some kind of cute accessory, maybe a tiara, or a necklace and she just thinks she still wants to wear it.   And Porter, he is our little turkey….he loves the attention!  He has been tried off of his O2 a time or 2 or more and keeps getting it back when he decides he needs it.   Docs say this is normal for preemies….they will grow out of this.  Pecos and Powers are our 2 that just hang out and enjoy life.  They are doing well and actually were the first ones to get into open cribs!  Powers was first as he met the weight limit before Pecos, but Pecos followed a few days later.  They remain in their open cribs and have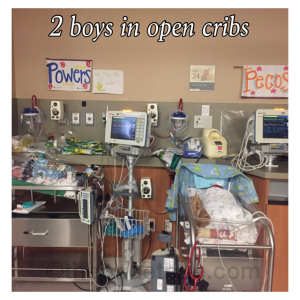 maintained their temps well.  (if they can hold their own temp without help from an isolette, they get to graduate to an open crib)  Porter was actually put into an open crib last week, but had to go back into his isolette.  He was getting too cold and couldn't get his temp up on his own.  He'll try again in a few days tho.  Like I said….he loves the attention, I think he just likes to keep the nurses guessing, and mommy too.  (I've had a talk with him as he will need to cut that out by the time he comes home 🙂 )
We also started bottle feeds this past week on Monday the 10th.   They all did very well for their age.  Our boy Porter actually drank his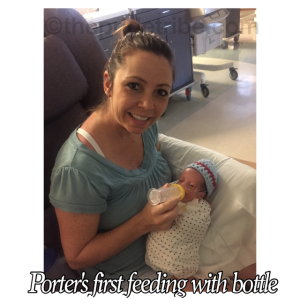 whole feed from the bottle on the very first try…WHAT!?!?  Why YES he did!  He decided he'd just show everybody how it's done!  And, he continues to finish each bottle he is offered.  They are now offering him a bottle as often as he asks for it.  They call it Q based feeding, if he is awake and Q-ing (meaning he is opening mouth, trying to suck on fingers, or rooting around) then he can drink from his bottle.  Payton, Pecos and Powers are all on 1 to 2 feeds of the bottle per day, and they are doing very well for their age.  The nurses start them out slow and easy so as not to wear them out too much and to introduce the bottle in a good way and not have any bad experiences.   They all, even Porter, still have feeding tubes in their noses however for feeds just in case.  Learning how to suck-swallow-breathe and without any HRD or Dsats is a big task that can take weeks for a preemie to master, so we have time on our other 3 little ones.   The Doctors also told us this past week that we could look at having them home, or at least some of them by maybe as early as 36 weeks!  WHAT…that's just 3 weeks away!!! That is an optimistic goal…..but It could happen for one or more of them.  A very real date could be week 37 which is Sept 12 – 18th.  It could be very interesting if only some go home and we still have 1 or more in the NICU here….We'll just cross that bridge when we get there as I can't think about that now…one thing at a time, haha.  Oh, and I mentioned last time about talk of transferring them to College Station Scott and White…..well, our insurance declined.  We tried every which way to get them transferred home but is not happening.  And, it took me about a week, but I'm good with it now.  We will just keep on keepin on here in Temple and they'll be home in no time!
And so, as I sat in the NICU this past week and started bottle feeds, I got a glimpse of how it will be at home…..YIKES!  Bottle feeding, then burping, changing diapers, mixing bottles, adding whatever multivitamins or supplements they go home on, washing bottles, getting the babies back to sleep, etc……..all of that around the clock….I sure think that equals absolutely no sleep for me and Trent, and needs to be mostly me so Trent can actually work and pay the bills.  And we have Parker who is not quite taking care of herself yet….haha, just kidding, of course she's not.   Anyway, we are going to have to figure something out.  We'll for sure have some help at first, family will for sure come to help, but it will be crazy I have no doubt, LOL!
So…lots of growing for my babies has happened over the past 2 weeks.  And, I spent some quality time with my Parker as well.  Trent
and her are still coming up on the weekend and on Wednesday's to see me and the babies.  Trent is still working on finishing the house remodel, we have sheetrock up, Yay!  They will soon be painting and then coming to do final electrical and plumbing, then we have our trim work done, and I think flooring and cleaning after that….so just a few more weeks.  Then I can get the nursery ready, finally….. would love to have it ready by the time we have babies home 🙂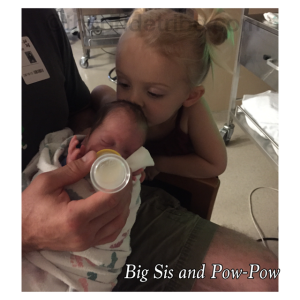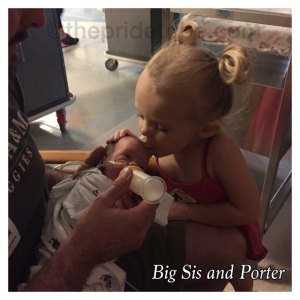 And, I am hanging in there with recovering…I am frustrated because I am still not my normal self.  I am exhausted, I still get winded easily, and I  have bad back and hip pain.  I think my hips were repositioned during the pregnancy and they are trying to work their way back in place, at least that is what it feels like.  I am just out of shape, period!  I feel kind of whimpy because, gosh…it's been a month….but I'm just not there yet.  Hopefully in the next few weeks I'll be getting over more of these pains.  I really don't want to complain though.  I honestly have so many blessings in every day that it makes it hard to complain, and I am thankful for that.  This experience is hard, with our family separated and all that we have on our plates right now BUT…. really….none of that matters!!!  We know this is truly a blessing…not for one second do we want to take this for granted.  These 4 precious souls, and Parker are our everything and we thank God every day!  I have seen many babies come and go over the past 4 weeks that we have been in the NICU, lots are not as healthy as our 4 and I wonder and pray for them and their families.  This just makes all of this so unbelievably surreal.  I have no idea why God chose Trent and I to have these children, but I am so grateful and thankful to him for his sweet Grace and Love, and that they are HEALTHY!  That is better than anything on this earth, anything material….their health!  This experience so far has really made me not want to fret about the minor things…..there is nothing more important than family and health and the love we have for our lord and savior Jesus Christ.  And I tell you that having our Quads has helped us grow in our faith, and we'll always be growing in our faith I believe as time goes on.
I also want to say that Trent and I both are so thankful to all of those who have helped us, offered help, prayed for us, supported us, given us gifts, pledged money to our Fundme account, etc….you are all amazing and we know each and everyone of you.  Your kindness and love is not unnoticed.  I am forever drowning in the amount of Thank You cards I need to send, and I hope to get to them all one day….But for now…Please Know that we do notice and we will be forever Thankful!  And special thanks to our family, for loving us and supporting us and always being there for us.  We love you all!
I think that's about it for now, I'll keep up the updates as we progress in the NICU!