Our 4 miracles turned 2 weeks old this past Wednesday!  It feels like it has been about 2 months to Trent and I though, LOL!  Not much sleep…. They have all made amazing progress, at only 31 weeks gestation!  They were back up to about their birth weights from losing some like most newborns.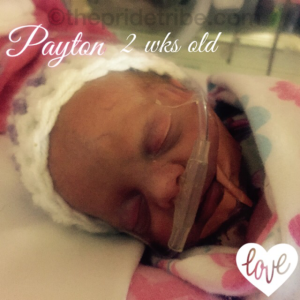 Payton 2lbs 10.3 oz
                                                                                                          Pecos 2lbs 15.8 oz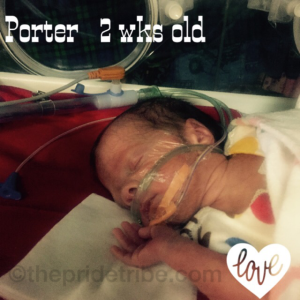 Porter 2lbs 13.6 oz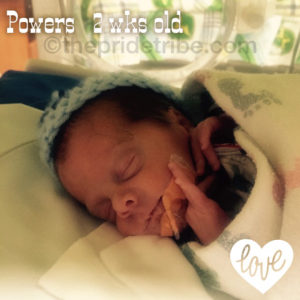 Powers 3lbs 1.4oz
They have all had their IV's removed at the first of last week, they are getting all their nutrition from my breast milk, however they are supplementing now with a high calorie additive that adds four extra calories to their diet.  This is just dissolved in the mild before each feeding, which is every 3 hours, and will help them gain weight.  And they receive a protein supplement too.  (their goal is to get them to gain about an ounce a day, so hoping to put on a whole pound in a little over 2 weeks!).  They were being fed through tubes in their mouth and given the feed over an hour so as not to fill their bellies up too fast.  (now their feeding tubes are place through their noses to allow their mouths to be available to start learning to suck)   All are handling their feeds well still with very little aspirates (any residual milk left in their tummies after their previous feeding), this all means that their little digestive systems are working as they should still.
Pecos and Powers are off of any kind of oxygen and breathing on their own.  Porter and Payton are on nasal cannulas with lowest setting air flow and oxygen still very low.  They just still need a little help breathing.  Their doctor said maybe another week on O2 for my two little ones.
These little angels are proving to be ROCK STARS!!!!  There has been talk about transferring them to the College Station Scott and White, which is where we live, so this would be a blessing and less a strain on us as a family to be close to home and all be together.  The Neonatologist says they are ready, that they are basically feeders and growers now.  We should see no major issues now, they just need to gain weight.   The transfer is very expensive however, and insurance is not quite wanting to allow it (4 ambulance rides would probably be pretty expensive)  but we are waiting to see if they can work anything out.
The babies still need to have an eye exam, lots of preemies can have eye issues so this can tell us what we are to expect.  That will probably be done end the week or about when they are 32 weeks.  They need to learn how to maintain their temperatures on their own, which they are practicing already but need some assistance still with warmers in their beds (once they do this they will be in open cribs) They also see an occupational therapist for their form.  When a preemie is born, they need to continue to be in a fetal position to grow and mature their muscle tone the way it needs to.  With them out of the womb, they are more stretched out at times, this is why nurses and OT has to work with them constantly to keep them snuggled up tight into cute little burritos!  They also still need to learn to suck, swallow, breathe….this is the biggest task and will take them until they almost go home to master.  Right now, they don't have the muscle tone to suck and they don't know or remember to breathe when they do try to suck or even know how to swallow, this causes them to have Heart Rate Drops and O2 desaturations and we don't want any of those…..so correlating it all together is a mature task, but they will learn….they are super smart you know…I mean look at Trent and me…We are Aggies!  HeeHee!
Oh and me, I am staying here at the Ronald McDonald house in Temple and am most blessed to get to.  This place is great!  I had no idea about how important these type of homes are until, well…until we were in need.  There are always people and businesses donating their time or money or food here, it's just amazing at the generosity of folks!  What a blessing!  I spend most of my day in the NICU…it's practically my job now, haha.  I hold babies, pump every 3 hours, and change lots of diapers and take lots of temperatures.  The NICU nurses are amazing at what they do….These little ones are a lot different than a newborn…they are super tiny.   It takes some skill!   I will say that after changing tiny, miniature diapers for the past weeks and then changing Parkers over the weekend, it was a major difference!
Parker is hanging with Daddy…..his right hand gal!  They were here all this past weekend, I had lots of Parker time and Trent spent the day in the NICU holding babies and giving a few their baths.  It was a great weekend!  Our house is pretty much demolished in the inside right now as we have our contractors tearing out a wall and windows to work on our small remodel.  Still need to get that baby room that we are adding on finished….yikes!
Oh and the pics and weights of my little ones above were from last Wednesday, so I'll update you on their weights now….
Payton is now weighing in at 2lbs 14.7oz
Pecos is at 3lbs 2.8oz
Porter is 3lbs 2oz
Powers is in at a whopping 3lbs 6.3oz
GROW BABIES GROW!!!!!
All the Glory to God for their health,…. and our health along with Parker's.
Much Love,
Niki