Our babies blessed us with their presence on the morning of July 15, 2015.  One of the 3 best days of my life!  The day I married Trent, the day I gave birth to Parker and now this day that we brought into this world 4 precious blessings and miracles from Heaven!
So, I last left off where we were going to have our appointment in Temple on Monday the 13 to have a check up.  I left the house, was hesitant to take my bag as I was thinking….I'll be back home, they won't keep me and we'll have to go back at the end of the week for more steroid shots.  But, I packed a bag anyway and we took it as we headed out to Temple.  We had a good appointment as we watched for them to practice breathing.  I was having contractions throughout the appointment, but I was uncomfortable on the table as always and thought nothing of it.  One of our specialist walked in and said, "Well, are you ready to stay with us, I think it's time you stay here"  Wow…I didn't see that coming.  Ummm…..yes, I guess.  My time away from Parker was flashing before my eyes.   I was just caught by surprise.  I wanted to be kept weeks ago when I was so worried about what might happen, but now I was content and just knew I had this for a few more weeks.  So of course we checked me in and I started receiving my 2nd set of steroid shots for the babies.  The Doc checked my dilation and I was now at 4cm, so I had increased from a 3 to a 4.  But I wasn't alarmed as I thought I could go for a few weeks at 4, I had been a 3 for a few weeks.  Anyway, Trent helped me settle and headed home late to care for Parker and animals. He was coming up the next day, the 14th with Parker for my birthday.  All I wanted was a balloon for Parker and a piece of white cake.  🙂 So the next day they came up along with my Mom and we celebrated!   I had the most amazing birthday!  Parker picked me out a Hello Kitty balloon and a white ice cream cake, yum!  And back home they all went.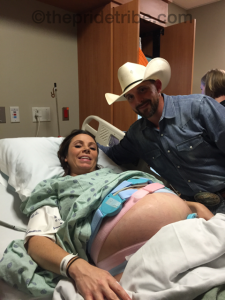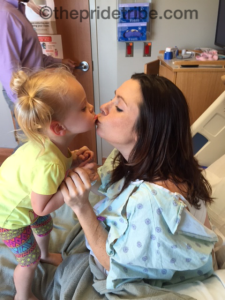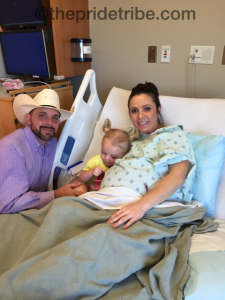 That night I had some piddly contractions, but they were coming every 10 min for a few hours, then I had the usual throughout the rest of the night.  Some strong ones that made me wake up in a sweat but that was the norm for the past weeks.  I had told the nurse and they monitored me most of that night.  Then the morning came.  July 15th.  I was 28 weeks and 5 days.   The Doc came in at about 6:20 and  after seeing my contractions all night and said she was going to check me.  I was now dilated to 5cm and my cervix was completely thinned or effaced.  She said "You're having these babies today"  I immediately had a lump in my throat….."no….It's too early" I said.  She explained again that they were coming today and that they were taking them now before we had an emergency that would put a baby in distress.  She asked how fast Trent could get here and I said by 8:15 and she said he probably wouldn't make it but to call him.  Oh the emotions, and all the thoughts racing through my mind….I called Trent and was trying to tell him "emergency" through my quivering voice.  He said to hang on and he'd be right there!  He left the house, Parker was with her Nana and my Aunt.  And, he was in route!
I was being hoarded over like a bunch of worker bees….They were putting this monitor on me, asking me questions, prepping me for this or that for surgery.  I handed my phone to a nurse and asked that they take pics for me and she of course gladly took it.  I was rushed to surgery and administered my spinal.  A nurse was holding my hand the whole time.  They said they would catch Trent as soon as he walked in and get him scrubbed in to join me.  But…..they just couldn't wait for him…..It was 7:46AM when little Payton was pulled out and I heard her little voice!  WOW!!!!  Then 7:47, here comes Pecos and I heard him cry as well.  7:48, there's Powers with a cry, and lastly 7:49 was Porter with his little cry!  How amazing!  (they did actually swap Porter and Powers, thinking they pulled Porter out and then Powers ……so their names were switched for the first 2 days, but we got them switched back – they have such different personalities in my belly that I had to have them kept straight!)
Anyway…..back to the excitement….It was amazing, Oh my goodness…I just can't put it into words!  And, so as they were putting me back together, Trent came into the room.  He made it at about 8:10.  He had ran out of gas on the way as he was punching on our big Pride Tribe Wagon and it just did not get the best mileage going about 105 down the road. He had rolled into a little restaurant/meat market called Green's Sausage House about 10 miles out of town and asked around if anyone had any gas and a man gladly ran home to grab a full gas can for Trent and didn't even let Trent pay him for it, what a good Samaritan!  I appreciate him so much!  That all cost him about 15 min, so he probably would have still missed the babies being born.  I was sad at first…but it all worked out okay…And we have a funny story to tell about the Wagon getting 1/2 a mile to a gallon.
So after they sewed me up and all was back together, they told us the babies were fine and that Trent could go see them in about an hour once they were stabilized and had ran all their tests.  I was then wheeled to a recovery room and doped up  with pain killers.  Well….I don't do so good on pain meds….they make me reeeeeeeaaaallly nauseated and they reeeeallly work on me.  So, of course I started to throw up, and drink water and ginger ale enough to throw up again.  I think this went on for 1 to 2 hours until I was wheeled to my post-partem room.  Once there, almost immediately, I told Trent that I just felt like I was going to pass out…then immediately after that I told him I couldn't see.  I was blind…I saw lots of black and grey only.  The nurse checked my blood pressure and it was 47/35….uh oh…that's pretty low!  She decided she call the doctor in immediately.  At that point lots of docs and nurses came in, I think…I still couldn't see, but they very quickly ordered for me to have an IV administered and pumped me with some fluids….checking my blood pressure over and over, I started to gain my vision back slowly, first black and white, then I saw some color.  Blood pressure was up to 80/60.  Then they started maneuvering my bed out of the room (at this point I'm not terrible worried…I was just so so out of it)  BUT…once we cleared the doors of my room, They started running with me, wheeling me so fast my hair was blowing in the wind!  Then I kind of got worried…. I was being rushed for emergency surgery for internal bleeding.  So…I was intubated and woke up later to recover in ICU, That was fun being opened up a second time!  However the doctors and nurses all did a great job at bringing me back to life.  I had received 3 blood transfusions, and later received 2 plasma transfusions.   Was in ICU for 2 days.  Parker was brought to see me there and that was tough as I could barely muster energy to look or talk to her, she did great though, she is such a brave little girl and amazes me everyday!  Once I was released from ICU and had my catheter removed and could muster the strength to fight and to get up and get into a wheelchair I FINALLY got to see my babies!
During all that action with me…Trent would go see our angels and report back to me their progress.  Much of it I don't remember, I just know that they were doing amazing for their gestation!  Trent explained to me that all the Doctors and nurses were amazed at their weights and their health!  NONE of them had to be intubated or put on ventilators, which the nurses and docs were prepared and expected to have to do, but they didn't, All the Glory to God!  They had already proved to be amazing little fighters!  I was and am still blown away by their bravery!    So all the while I couldn't see them and was trying to recover from my surgeries I was just comforted by knowing they were doing well….What a blessing!
Payton weighed 2lbs, 10.7oz, length 14.3 in
Pecos weighed 2lbs, 14.9oz, length 13.78 in
Porter weighed 2lbs, 11.4oz, length 14.24 in
Powers weighed 3lbs, 1 oz, length 15 in
I was doing my best to get them all to 3lbs, and I was soooo close!  Again, their Doctor was pretty amazed at their weights!  And we were too!
Once born the boys were administered IV's for fluid and meds through their navels, Payton was actually given an IV in her head instead.  Not sure the reason for the difference, but by their 3rd day, they were all moved to IV's in the arm.  They were also given oxygen through what was called a cpap.  Quickly Pecos came off of that after a few days onto a nasal cannula only with very little oxygen support.  Soon after that, all the others followed suit….off the cpap onto less invasive nasal cannula.  That all happened over the first week.  So……our babies have been rockstars with the breathing.  Pecos had come off of any support at about 7 days of life…then Powers, then Porter then Payton. They all have since been put back on the lowest setting to give them a little 'rest' as they were getting tired breathing on their own.  We are told this is very normal for micro-preemies.  (and now Pecos and Powers are again breathing on their own)  Basically…the Doctor will try them when she thinks they are ready and if they need it back, they get it back.  The nasal cannula is just a flow of air that helps push air in for breathing, the oxygen level on them has been at 21% which is exactly what we breathe, and up to 30% which is not much….So they are doing spectacular with their breathing.
Another worry of premature infants is brain bleeds…They were tested for this when they were born and we did not get the results back until they were 8 days old……..oh the wait for that……But, again… Praise GOD above….no brain bleeds!
And again another concern is Heart Rate Drops or Bradycardia episodes and O2 desaturations, or HRD and dsats for short.  All premature infants have these issues.  It's watching them and making sure they are 'normal.'  They are expected to have them, their bodies are so very immature and they are doing all on their own now.  Fortunately, we have not had any major issues with these, just the 'normal' HRD and dsats for their age.  They also receive caffeine to help with this, it is good for their neurological development and helps to keep them stimulated to 'remember' to breathe.  They did not have to do this in the womb, so they need a little help to have to do it now.   Actually, our little Porter was having too high of a heart rate so they took him off of caffeine, he is my little mover and groover so he doesn't need the extra stimulation, lol.
And, then there's their gut…their little digestive systems are having to work to digest their feedings.  They were all given a glucose concoction, with electrolytes and such in their IV's, sounds like some yummy Gatorade, but this helped them along with breast milk to be sure and have what they needed.   So, they all have feeding tubes in their mouths that go directly into their tummy's, nurses would syringe milk straight to the feeding tube and before every next feeding they pull back on the syringe or aspirate it to see if they have any milk still undigested in their tummies.  They all had very minimal aspirates, and if it is not discolored or mucoussy (if that's a word) they actually push it back into their tummies to go along with their upcoming feed, yummy sounding huh!?!?  These little 4 have not had too much of this going on and thus their little digestive systems are doing what they are supposed to.  We had one scare with Payton when on one day, I think about 8 or 9 days old she vomited.  The immediately ran x-rays on her tummy and pulled blood to check for any infection.  The x-ray was to check for NEC which can occur in preemies and can be a scary thing with their little digestive systems.  But…all came back clear for little Payton, and she has had no issues eating since, just like her brothers.  Hopefully they'll remain good little eaters!
So…..We couldn't be prouder or more grateful for how these 4 little lives are doing.  I ask myself every single day, how can I be so blessed!?!?  I have no idea why God chose us, why he chose me to be their mommy….but whew, it just brings tears of joy to my eyes to know that I get to be their mommy.  They are so amazing!  Oh the love I have for them is just out of this world.  And, miss Parker, whew…she is just the most amazing big sister, she loves 'her babies' so much!  I am so very proud of her and her bravery to be without mommy for a bit while I'm here caring for her brothers and sister.   That's been very hard and emotional for me, I'm torn everyday from being away from her, but Trent has her and she loves her daddy something crazy!
And so I apologize for the delay on getting this post out….I swear anytime I would look at my phone or computer I would suddenly come down with instant narcolepsy and be out!  LOL!  Stay tuned for another update very soon, I will start on it immediately.  🙂
Remember you can always sign up and get an email update when I post more about The Pride Tribe!  Also, feel free to share our story!
Much Love,
Trent and Niki
Here are a bunch of fun pics of our NICU stay thus far…… More to come!