7/6/15-7/12-15
28 Weeks TODAY!  WE MADE IT!   A HUGE milestone and Goal!  Praise the Lord!  A definite victory in the development of our 4 precious babies!
We went to see our specialist in Temple on Monday, and all of our babies are growing great!  They are all 4 still in about the 50th percentile, meaning they are average in size for a single baby at this gestational age.  This is also excellent because of my size…. despite my small frame and the fact that I'm a shorty pants has not really hindered them from growing so far.
We did not get any new pics 🙁   But all were kicking around and have excellent heartbeats.  And, we have their new weights since we measured them exactly 3 weeks ago:
PAYTON  (our baby girl):  2lbs 3oz – she has grown by 12 oz
PECOS: 2lbs 5oz  – he has grown by  12 oz
PORTER: 2lbs 2oz – he has grown by 9 oz
POWERS: 2lbs 11oz – he has put on a full pound!  Our big guy!
We're so excited to see their little personalities starting to show… so far, we know that Powers is living up to his name by being the big guy…. And Payton said to her brothers 'I'm going to catch up with you guys!'  and Porter is the little guy now and I can tell you it's probably because he is the most active little thing, He is constantly flipping and flopping around, silly boy, he's working off what he gains!  We knew that they were gaining from the looks of me…my belly is a full 2 inches more around than it was 3 weeks ago.  At this rate, I will be as big around as I am tall, heehee!  And, I just this week started showing some small stretch marks….I was wondering, My skin kept hanging on and doing great….  I completely expect to have them, I was surprised that it has taken until this week to get them.   I sure hope and plan to get more….bring them on, It means my 4 cuties are growing growing!!!!  And for now…with all the weights added up and the Doc said at least 4lbs of placentas and fluid….I'm sporting around a 13.5lb belly!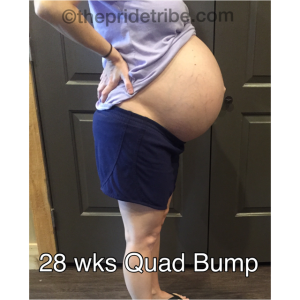 Trent and I couldn't be more proud of our little angels! I know they will come into this world fighting and I'm sure will just surprise us in everyway.
So as far as what's going on with me….they are no longer checking my cervix for dilation or effacement (thinning or shortening)  Last I was checked it was in the hospital and I was 3cm dilated and my cervix was 2cm long.  My doc says that checking it now would just irritate it or cause me to have more contractions (which is does.)  So, he says it is what it is.  They know that I am contracting and that I have started changing to accommodate labor, so everyday we are just to be on watch.  He was fine with me going home although he offered me to check on staying at the Ronald McDonald house if I wanted to stay close by.  We decided for me to come home this week and self monitor.  And he is having me continue to see my local doctor  and he wants to see me back in Temple on next Monday the 13th.  Also, my last steroid shots only last 2 weeks…..so the effects of them will be wearing off by next Wednesday or Thursday the 15th or 16th.  We'll need to get more shots on board in case I go into labor then.  So after we see him on Monday, he'll discuss admitting me again end of next week to administer shots.  And, potentially stay in the hospital until delivery…..or I may stay at the Ronald McDonald house to be close just in case.  Basically, we are on guard every single day, even now! And I tell you that it is just about Quadruple 🙂 the amount of pressure to watch my contractions and time them and pay attention….whew… It really will be a relief to be in the hospital and I can have others help watching me so I'm not second guessing things.  I promise though, I will be one of those to go in for anything….even if we have a false alarm! We really don't want an emergency, so we pray that I'll know ahead of time, and or I will be in the hospital when labor starts……ESPECIALLY when we need to deliver 90 miles away!
And, I did go in to see my local doc yesterday ….she checked my vitals and the babies heartbeats and all is well!
NOW……for the TMI UPDATE:  Thank you all first off for the advice and the prayers for me…Goodness, I honestly feel so for anyone who has ever had a Hemorrhoid!  It was the most excruciating pain….. I suffered through it last weekend and by last Sunday it was feeling better.  I did get it checked on Monday while at the hospital with our specialist.  A whole team of doctors came in to take a look for me….It was really the most embarrassing thing…. as opposed to child birth, I didn't mind bearing it all to the nurses and med students, all dignity was gone…but to have 4 doctors and a med student look at my butt was a tough one!  Anyway…… they said as for the pain I described that it was very likely a thrombosed hemorrhoid, very painful….and said I should have gone to the emergency room immediately with it and they could have given me some relief. (that those kind need to really be looked at within the first 24 hours)  However, I did not…so he said after I endured the pain it started getting better and most all Thrombosed Hemorrhoids will get better on their own in about 48 hours.  So it's still hanging around but nowhere near the pain and is just going to be a battle wound for a bit….But I WILL win this war!  HAHA!!!
And…..lastly…..OH HAPPY DAY!!!!!  My sweet Parker comes home today!  This has been the longest she has ever been away from us, and I was surprised at how well I did at first.  I knew she was having a blast and I was resting well….But I tell you that by Wednesday evening, I was about to lose my mind.  And, waking up on Thursday…..I just couldn't hold it in, it had been too long (5 nights) I just sobbed for most of yesterday.  Ugh….The thought of me seeing her this weekend and then potentially going back in the hospital end of next week and being away from her for a good while, as I'll be there after our babies are born too, I feel a sort of torn feeling already.  This is so silly as this is not a burden or something we must 'deal' with, this is our family, these are our babies!  I certainly have enough love to show them all….I just hope and pray to God that I am the mother they all need, Parker included, as I know that this time may be tough for her as she adjusts.  I know any older sibling has an adjustment phase as a new baby arrives, It will just be times 4 and add the complication of her mommy being in another town caring for her brothers and sister.   She is an amazing individual and will be absolutely fine, Trent and I have prepared her and I'm sure that she will surprise us in every way as well.  I thank God every day for her and for trusting us to raise 5 beautiful children.
Trent and I couldn't be more excited to be in this journey!  What a blessing, what a multitude of blessings, We can't thank God enough, we can't thank our family and friends enough!
Happy Friday Everyone!