6/15/15-6/21/15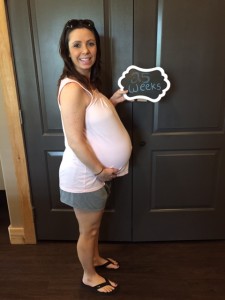 Here's my Quad Bump Week 25!  Woot Woot!!!!  These babies are growing growing! Oh how EXTRAORDINARY we feel to be blessed with 4 new little lives!
This was a wonderful week!  We had appointment on Monday with our specialist in Temple and enjoyed getting to see all 4 of our angels for a few hours as they scanned them over and took measurements.  All of them are growing great and continue to be developing perfectly!  The doc has been watching their fluid levels and the fluid around my boys seems to be lower with  just B and D having mild excess fluid now.  And as far as their growth, our doctor said they are right in the 50th percentile of singleton babies at this gestation, meaning they are all average in weight now for 24plus weeks, which is a good thing.  He was very pleased at their growth and said with my size, he really is happy with how they are growing.  (so my being a shorty pants is not affecting their growth at all)  Also, my cervix continues to measure 2.5 which is good and where they want it to be…..we don't want any shorter….so thank God!
Now to the juicy part….We wanted to share with you our sweet babies' names!  Call us crazy……and we might be….but we went with all 'P' names.  We had a boy and a girl name picked out if we were ever blessed with another child, so we wanted to continue to use those and just thought it'd be fitting to throw 2 more 'P' names in there for good measure.  I mean…I think we will be toungue tied trying to say their names anyway…we have 5 kids!!!  And once we had 3 with names that start with a 'P', I mean really…..what's 2 more.  LOL!  So, here are their names and weights as of Monday!
Baby A – Payton – Our little Girl – 1lb 7oz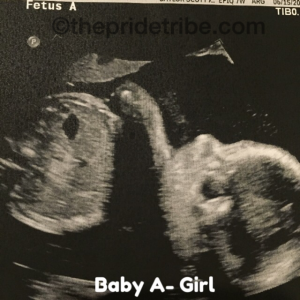 Baby B – Pecos – 1lb 9oz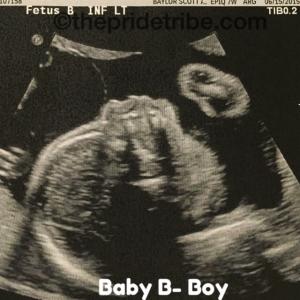 Baby C – Porter – 1lb 9 oz
Baby D – Powers – 1lb 11oz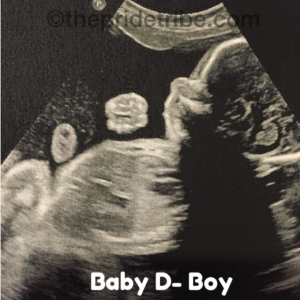 So we have Payton, Pecos, Porter, and Powers….and of course our sweet Parker!
That was difficult….naming 4 little individuals at one time….but I am so glad we decided and are done and our family is too…now we can call them by name and speak blessings over them!  And, I get to talk to them and know who exactly is kicking me or squeezing my bladder or both, haha!
Speaking of that….It is one amazing feeling to have 4 babies kicking around in there.  I remember Parker and feeling her everywhere, especially at the end when she was 7 plus pounds.  But these 4 are unbelievable.  I feel them in their specific spot and it gets more intense by the day!  I don't think I said previously but I started feeling movement about 17 weeks.  And now like I said, it is amazing! Payton and Pecos are my two that are low and they love playing around with my bladder!  And I have noticed as they've grown it's harder to lift my leg as they are in the way, haha!  For example, our bed is not that tall, but I've utilized a stepstool to waddle up into the bed, and now I can feel my leg bump my low hanging belly as I raise it the all of 1ft to step on my stool!  I suspect it will continue to get interesting to get in and out of bed… If I could step aside and watch myself do some of the things I have to do to maneuver around, I think I would probably laugh so hysterically that I might pee my pants!  (which can almost be a true statement as I struggle to make it to the toilet in time since it is being constantly kicked by 2 babies! )   And…then I have Porter and Powers up high doing their thing….mostly just helping me to not breathe, lol.  I have noticed them growing too as my belly gets higher and higher up under my chest.  I promise my pictures don't do justice….this is a big belly for this little mamma!
We have an appointment on next Monday the 22nd with our local doctor and we'll check into my cervix again.  They still want to check me weekly and make sure there are no changes in my cervical length that would alarm them.  If I have shortening, then they will discuss admitting me to give me steroid injections….it's to help with my muscle tone…haha, just kidding….It's for the babies, to help with their lung development if I were to go into preterm labor.  And, there's a certain window of opportunity to administer those that my doctors would not want to miss, so I'm perfectly happy being checked weekly!   Especially since my contractions are getting stronger and occur day and night, I'm having to breathe through them like I'm in a Lamaze class!   I just have to watch for consistency and duration of them.
Until then, we continue to do what we've been doing!  My aunt is still here helping with me and feeding me and  taking care of housework and the things Trent just would have to lose even more sleep doing…. so we are so grateful for all the help!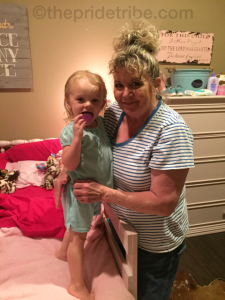 Oh and an update on our remodel…..sorry for my scatter brain!  We did have some rain this week, thanks to Mr. Tropical Storm Bill, but we didn't get as much as expected.  Trent was able to get materials here for concrete work, and they came and set forms and did the ground work to pour concrete next week.  (just the portion under roof, and they'll come back to pour our new patio once all dries out)  So hopefully we can have them start framing end of next week for our nursery and an extension of our dining room!  We have to cover up my Parker Pies hand prints that we did last year when we poured our patio 🙁  But, we'll do new ones on the new patio and I can add our Quads names too!
ANYWAY, Our next goal of 28 weeks (which is the end of the second trimester, beginning of the 3rd) is only 3 weeks away, YIPPEE!!!!  We are getting so close, this is getting so real!!! YIKES!!!
And, sorry more scatter brain-iness 🙂  …..Trent was the greatest dad ever today, he decided to take Parker to the splash pad and the park, since she has been cooped up lots these days. What an awesome Daddy.  Parker says "Dad, you're the best"  He has a million things to do yet he decided to take the time and let Parker have a change of scenery!  He's amazing!  That's what being a Dad, or a parent for that matter is all about right.. to take the time to spend it with your children….they are only young once and are building memories!  And, that little toot is the very light of my every day…..as uncomfortable as I am or whatever pains I am feeling, I just look at her Angel face and all goes away.  This little girl keeps me going!