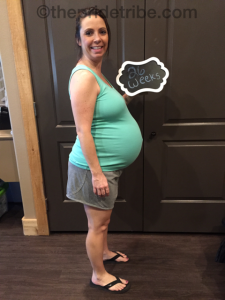 6/22/15-6/28/15
Another week down and I couldn't be prouder of how things are going!  26 Weeks FRIDAY, yesterday (not sure why I made my dates above go through Sunday, oh well)!!!!  And, let me tell you, we owe all the Glory to God!  I know we have tons of folks praying for us and we appreciate it soooooo much, please keep it up, because it's working!   These babies need prayers!
We had our appointment with our local Doctor on Monday, and all is well!  My cervix was still holding at 2.5cm!  All the babies look great!  Poor Payton and Pecos, babies A and B, are my two low babies and they are just being squished in there. I feel the two of them more and more everyday hitting my thights, I'm sure it's due to them trying to get comfortable after I move or their brothers crowd them from above!  Anyway, the appointment went well and we go back next Monday the 29th to re-check things!  We were told however, that we would be delivering at Scott and White in Temple regardless of my gestation.  Previously College Station has informed us that we could deliver here locally if I made it to 30 weeks, then we were told 28 weeks, then they bumped it back to 30 weeks.  Now they concluded that there is just not enough manpower here at College Station Scott and White to care for me, and monitor me and the babies as we get closer.  My needs and the babies needs will most likely increase as we get further and further along.  This is just too much of a high risk and there will be a lot going on when I actually start going into labor.   If I am still at home and doing well and something happens in an emergency they will try to transport me to Temple, or they may have to deliver here and rush the babies to Temple….which we DO NOT want!  There is more of a risk to our babies this way.   All of that being said….We don't expect that to really happen.  For example, I pretty much won't just be walking around the house visiting with Trent and Parker and my water breaks and we all hop in the car to rush to the hospital to deliver, like in the movies…… My doctor here said it will be a contraction thing….meaning, since I'm already contracting they expect them to, at some point, start to cause my cervix to shorten and me to start dilating, which would be me going into preterm labor.  Thank goodness for now it is just my uterus stretching and contracting and more or less practicing or 'working out.'  But…once my contractions get stronger and more frequent and I do have cervical shortening, I am assuming that Temple will want to monitor me, or moreso the babies, so at that point I think we could expect me to be hospitalized there.  We'll know lots more when we go to our next appointment in Temple on Monday, July 6th!  (I'll be 27 weeks on my way to 28!!!)  For now….at least we know where we plan to be instead of just being in limbo between the two….yes, College Station would be sooooo much more convenient.  But, we can now focus on Temple and try and put a game plan together for managing the back and forth from there (mostly for Trent and Parker)  It will be challenging, but we are totally up for it, especially since it is the best thing for our babies!
Also, it is just interesting to me that we have been told and what we have researched ourselves about average Quadruplet gestation, it is anywhere between 29 and 31 weeks.  I feel very confident to reach this and we aim to reach 32 weeks!  (and in case you don't know, an single baby's gestation is 40 weeks.)  We just keep praying over our baby girl and three baby boys, and over my body to cooperate and grow and stretch to accommodate them.
I feel great and relieved to reach the end of each and every week….I continue to fight everyday for these babies.  I fight to breathe and control my heart rate which just skyrockets in certain positions or when standing even.  I fight to try and minimize contractions.  I fight each and every night to sleep.  I fight to give them the best of me physically.  I also fight to spend as much time as I can with Trent and Parker now as I know that time will be shortened.   This is not a walk in the park….but I tell you that I certainly don't have to fight everyday to have a happy and grateful and humble attitude!  All of this will yield us 4 little children who will forever change our lives.  I am just so ready to show them everyday how much I love them, and Parker!  It will be my reason for living…..Trent included!
This week also has been crazy with our construction zone we have going around here….I think Trent must be bribing our contractors because we got most all of our concrete poured (they should finish our patio next week)  and we already have our new rooms framed out!!!  Didn't expect that to happen this fast, but we'll take it!  Trent is just amazing at this contracting work…..I really don't think he should quit his 'day job' tho 🙂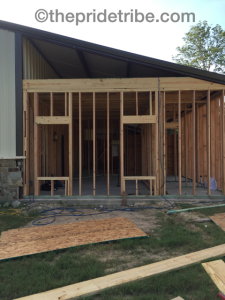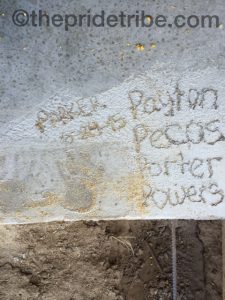 Until next week…I wish all of you a wonderful weekend!