6/8/15-6/14/15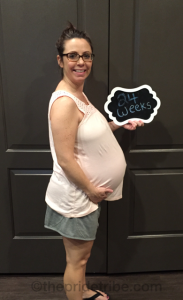 We made it to 24 weeks!  A milestone for multiples! Yay!  Pardon my appearance in the pic…..I just can't seem to manage taking a picture on a day that I actually look a little more 'put-together' (those days are coming less and less often though, Lol)
This week was a little interesting as I had a local doctor appointment on Wednesday…..after having lots of contracting since the last week, again, no persistant rhythm to them, But I was also more active than a the last few weeks.  I am thinking they might be directly related…hmmmm…..
Anyway, at my doctor's appointment, all babies continued to look great!  Great heartbeats and all moving around!   But she measured my cervix again, and it has gone down from last weeks measurement of 3.5cm to 2.3cm.  And, we don't want it below 2.5cm!  So….She consulted with my specialist in Temple and he recommended me to get checked again on Friday and if the same or shorter I would be admitted for constant monitoring.   Whew… so we came home Wednesday and I laid in bed as most as I could until our appointment on Friday morning.  My theory is that while I lay, I have a few contractions here and there…..but if I would get up, I immediately start contracting big!  So…..I'm laying!
And, then Friday morning came and I checked out to be at 2.5cm…..so a matter of 2 millimeters, but still longer and at the exactly at the lowest measurement that they would like.    So..no admittance!  Yay, I know I will be more comfortable at home and I get to see my Parker!  That's the best about being at home.  However I battle some because I almost want doctors monitoring me 24/7….It would give me peace of mind.  But, we keep praying and standing in Faith that our little girl and 3 little boys will not arrive before their time.   We will continue to do our part and I will pay attention to my body, and the doctors will monitor all they can, but my babies are in God's hands as he is our creator, he is the creator of life!
Now I rest until Monday when we go to our specialist in Temple!  We get to get new measurements/weights on the babies, Yay!  And, they can check the fluid around my boys, which has shown to be high.   I'll also be measured again and we'll go from there.
And what else has occurred this week!?!? Our remodel has begun finally…as of Friday June 12th!  It finally stopped raining enough for things to dry out and our plumbers to get caught up enough to come and chisel out for our new plumbing in the babies bathroom!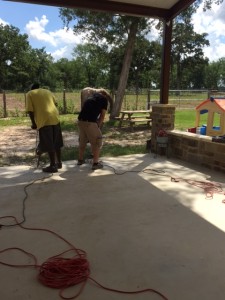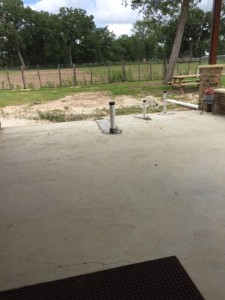 Yay!  So up until now….we've just been sitting waiting to add on the babies room…and it has finally begun!  Now we wait on the concrete guys to pour our new back porch (since the old porch will be the babies room)  It would be really nice if it did not rain again until we have the concrete poured……:-)    This add-on will most likely take 30 days or a little more…so it should definitely be done before the babies arrive.  I just hope it is done a little earlier so I can try and somewhat ready a nursery!
Also, we bit the bullet already and got our Pride Tribe Wagon, the Nissan NV!  It is pretty much a beast….the pic is not really doing it justice.  It has plenty of room for 5 car seats and diaper bags and strollers and all!  Parker loves it!  She was hopping around from seat to seat saying "baby sit here" and pointing to another spot "and baby sit here too"  and she continued all throughout the vehicle, until I think we had about 10 babies in there, haha!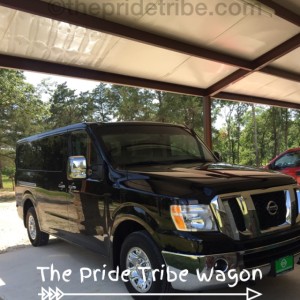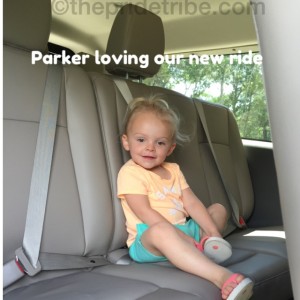 Until next weeks update…I hope all of you have a fabulous rest of your weekend!
With Love,
Niki