5/18/15-5/24/15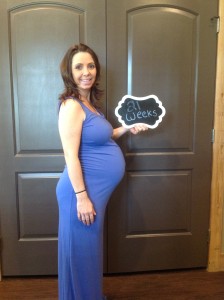 My Cousin Kate has come to save the day!!!  And…she did!  HeeHee!  Trent REALLY needed to work (with no interruption) and Parker is done with her Mom's day out, And me….well I'm pretty useless nowadays, haha!  I really am trying to listen to my body best I can and take care of these 4 Angels…and to give them a fighting chance!!! They need me to be the best vessel I can be for them to grow strong and healthy and not be delivered too early.  Our goal is to make it to 32 weeks!  A lot of Quadruplets (we have researched) are delivered around the 29 week mark.
Anyway, Kate is here and helping tremendously.  She cooked, cleaned, etc., took care of me, and Parker!  She even took Parker to Chuck-E-Cheese, which Parker asks to go to every single day of her little life!  LOL!   And, she let Parker play in the kiddie pool….well, we tried to get the kiddie pool out but couldn't find the blower-upper thingy, so in the country we just improvise and fill up a feed trough with water.  Parker doesn't mind as long as it had water in it!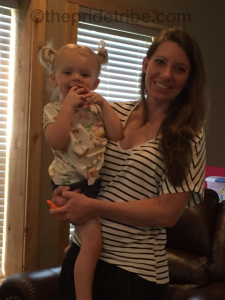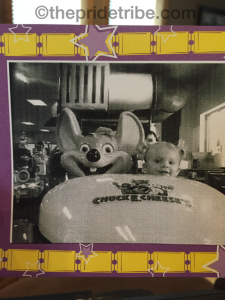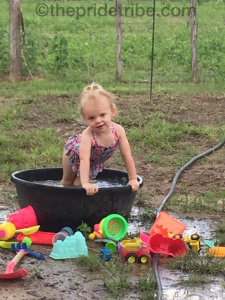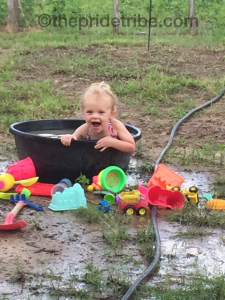 Oh, and Kate shaved my legs….yes, I said she shaved my legs.   She sure must love me.   It hadn't been done in quite a while since I just can't reach them…and they are hard to see, so I would be flying blind and that sounded dangerous.  🙂   It's not like just one baby in there….there are 2 babies really low and it pretty much eliminates any bending down more than about a 10% angle. We got it done on our back porch with the water hose….I kind of felt like some sort of animal being groomed, but it was well worth it!   I felt much better after all the stubble was gone from my legs, and made me feel prettier.  Thank you Kate!
This week really helped me rest and I didn't have any major contractions, Praise the Lord!   Oh, and I forgot to mention in my week 20 blog that I had yet another sinus infection…..the 4th one this pregnancy, I'm beginning to think there's a pattern here….LOL!  It wasn't quite as bad and I got it kicked in a week (instead of the usual miserable 15 days)
Anyway…. Looking forward to next week, my Aunt is coming to help!  We are so blessed and thankful for our family taking time out of their busy schedules and time away from their husbands and children etc. to help us!  We feel truly loved and not sure how we'll ever repay everyone……
Also, here's a comparison pick of my belly now at week 21 with Quads, and then at week 39 with Parker.  They are about the same, minus the white belly now.