5/11/15-5/17/15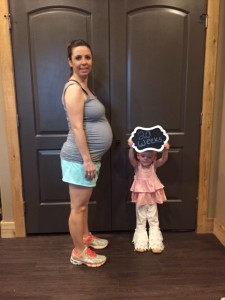 This week started out with strong full blown contractions….yikes!  It would only happen when I got up and walked around….so I sat and laid around a lot to keep them at bay.  There was no rhythm to them at all which was good, but I still was concerned.   Of course I called my doctors and they just said as long as they go away when I lay down or rest, then I'm okay.  So I rested a lot!   It was difficult with Parker here….well, mostly for Trent.  He had started working from home the first of May, so he was here all day and took care of Parker and me very well all the while managing to work too.  I don't think he slept but about 3 hours each night that week.  He's amazing!
I also went in for my Gestational Diabetes testing this week….they normally do at about 24 weeks, but with multiples they like to see a little early since we know that we wont make it to 40 weeks.  And, yay lucky me….I won the prize of pricking my finger 4 times a day.  It actually hasn't been bad and I've managed to keep it under control with diet…. I know other Moms who have had to have insulin shots and the whole 9 yards, my sister actually, so I really am not complaining!  And, I don't think any moms really complain when they are doing what is best for their babies!
So after my week was coming to an end, I just wanted and begged to be checked out…..I forgot to mention last week at our specialist appointment, my cervix measured at 5cm, which is a great length!  Anything above 2.5cm is wonderful, or so the doctor has told us.  We have to make sure my cervix stays above that certain length or we're looking at pre-term labor and we do not want that this early!!!! So, because of all the contracting I started feeling, I just needed to know what was going on!  I went in and got checked and my cervix measured at 4cm…so we were still good!  Amen!  They did tell me that my cervix was soft, and that was not a good thing…..that laying was better than sitting to keep all the pressure off of it.  So…..I continued to do as I had done earlier in the week and rest!
Oh and I'm up 26lbs….feels like more I promise 🙂   And, I certainly need to start putting on the pounds for these babies, I've started drinking an Ensure a day to help with weight gain and it has lots of protein.   My doctors said they'd like me to gain 75 lbs!!! WHAT!?!?!?  I'm not sure my little 5'2″ body can do that….but I'll sure as heck try!