5/4/15-5/10/15
This is the big week we've been waiting for!  We find out the Genders!!!  Trent, me and Parker took off to Scott and White in Temple to our Specialist appointment, while Nana followed us so she could watch our little toot while we were in with the Doctor.
The Sonographer checked out all the babies one by one 🙂  It was amazing!  It took about 2 and a half long hours of scanning and pushing on my tummy to get all their anatomy looked at and everything.  Whew!  I had to keep moving and transferring my weight some side to side to avoid passing out from all the pressure on my vena cava.  At first I thought I was crazy, but the nurse explained that it was totally normal and she was amazing at working with me.  We also took a 'half-time' after babies A and B before we started on C and D.  It was all worth it though to check out our sweet precious angels!  And all looked to be developing fine….actually a few were growing ahead of schedule!
Okay….so to the juicy part – here are their Genders and stats!
Baby A –  8 oz. – GIRL!!!  She is growing on schedule
Baby B –  10 oz. – BOY!!!  He is growing a week ahead of schedule
Baby C – 9 oz. – BOY!!! He is growing almost a week ahead of schedule
Baby C – 10 oz. – BOY!!! He is growing a week ahead of schedule
Yay!  It's just perfect, All the Glory to God for our sweet little girl and 3 boys!!!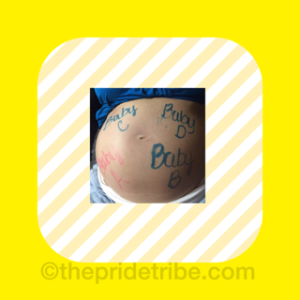 I had the nurse write on my tummy in pink and blue and walked out to waiting room to show Nana and Parker and they were so excited!
After all of that it was about 7P.M.  so this momma had to eat….we had to enjoy some Mexican Food since it was Cinco De Mayo, and then we ran by HEB to get balloons and take Parker's picture.   ( by this time she is exhausted so I didn't get a pic of her most enthusiastic face) Poor Baby…..but she did amazing!  Then we headed out for our hour and half drive home.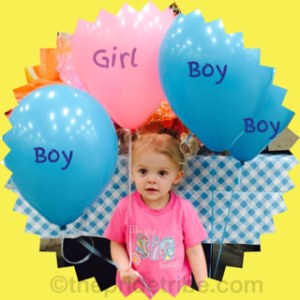 It was a long but blessed day!  God is so good!
Here are a few ultrasound pics.  We got some profiles but they wouldn't really show their faces. They were all still pretty much doing acrobats.  And, Baby D is a little toot to his brother Baby C, he is crowding him and invading his space on my right side.  I asked the nurse because I hadn't felt Baby D on my upper left (but Baby C on my upper right sure was always kicking me) ….Well, when we checked them out, Baby D was halfway over on my right side and halfway in his brothers space, lol, so I am feeling both C and D on my right side, haha!  Silly Boys!  AND…. You will see our precious Baby A, our little Girl, is already an Aggie!!! She is giving a thumbs up – Gig 'Em Ags!!! Whoop!!!